Some kid is stealing 2nd base and makes it easily; however, the quick thinking 2nd baseman tricks the runner and tells him it's a foul ball, and as the kid begins to retreat to first base, the 2nd baseman tags the kid out. Smart play right? Well, apparently the umpire at 2nd base needed a quick breather after having to do a complete 180 to make that call, he apparently calls time to help the kid out. Watch this video, sure doesn't make the coaches too happy:
Actually, watching this kind of reminds me of our favorite MLB umpire... Mr. Doug Eddings. I guess this guy can find peace knowing that he probably has a good shot of umping future MLB playoff games.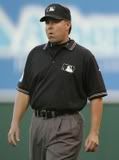 It's great to know that
Angels fans
will never forget that night.